An ever-expanding carnival of abstract revelry!
Images are not necessarily in scale to one another.
All designs are available in any reasonable color[s].
Magik; $325
special order only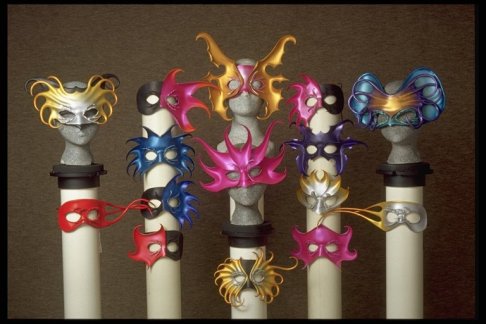 Columns, left to right, top to bottom:
Mardi Gras, Disc.

Windswept, Various *

Half Sun, $48

Comet, $45

Half Comet, $48

Half Canton, Disc.

Lg. Sci-Fi, Disc.

Lg. Plume, $68

Tendrils, Disc.

Half Comet, $48

Sm. Sci-Fi, $48

Sm. Plume, $45

Canton, Disc.

Carnival, Disc.

Windswept, Various *
Prices in red indicate discontinued designs and are available subject to stock on hand only - disc. indicates discontinued designs no longer in stock.
| | | |
| --- | --- | --- |
| * Windswepts are freehand cut from between other designs are each one is unique. I've happily made many dozens of them since the late 80s. They start at $60 and go up depending on size, complexity and color[s]. The one at right was custom made to a customers desires. | | |
Not shown: Flash, $45; Labyrinth, $39; Vee, $45; small soft masks, $12.
---

Home | Masks | Mask Care | Shows | Bio | Links | Scenes | Ordering | Email